Guildford Borough Council designated the Albury Neighbourhood Area on 22 February 2017 following an application from Albury Parish Council and a six-week consultation.
​The Albury Neighbourhood Area follows the boundary of Albury parish. No other neighbourhood area may now be designated within this area.
​Neighbourhood planning in Albury parish is led by Albury Parish Council. Anyone who lives, works, has a business or is an elected member within the neighbourhood area is entitled to get involved and help produce a neighbourhood plan or a neighbourhood development order for the neighbourhood area.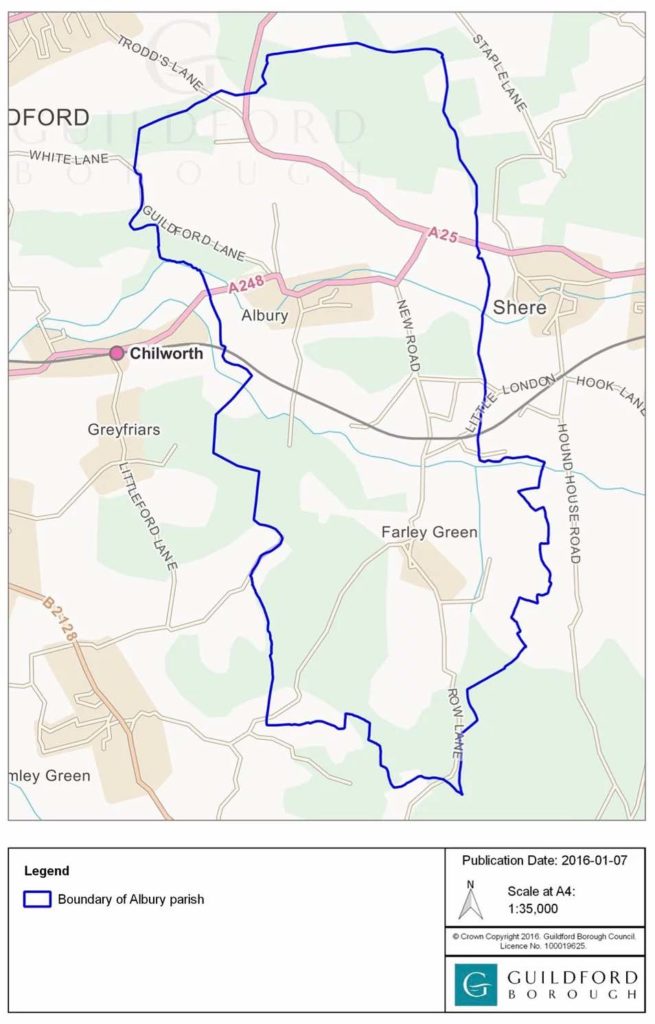 ​Neighbourhood planning is a voluntary activity and there is no requirement for residents or businesses to be involved. Residents in the Albury Neighbourhood Area who are usually eligible to vote there will be asked to approve any neighbourhood planning measures through a referendum, so residents who are not involved in the planning process will still be able to have a say over the planning policies or development orders that are brought into force.
For further information visit www.guildford.gov.uk/article/19475/Albury.Albury NA ApplicationAlbury NA ConsultationAlbury NA Designation Report
If you would like to get involved in neighbourhood planning in Albury parish, please click here to contact us.